Geekview IP Week(s) in Review
Judge rolls away $1.3 billion barrel over which Oracle had SAP.
Oracle sued SAP for copyright infringement, violations of the Computer Fraud and Abuse Act, and various state-law claims.  The case took more than three and a half years, with SAP conceding liability on all claims that were not dismissed.  Thus, the November 2010 jury trial was on the issue of damages only.  The jury awarded Oracle $1.3 billion in damages and SAP appealed, seeking judgment as a matter of law (JMOL) and a new trial (again on the issue of damages only).  The court agreed, vacating the damages award, finding it to be "grossly excessive."  Jewelry is another kind of excess all together . . .
Jewelpops asks court to pop Royal Chain's Karisma.
Jewelpops filed suit against Royal Chain in the Southern District of New York (SDNY) for copyright infringement, trade dress infringement and dilution for its Karisma line of jewelry.  Kameleon vs Karisma — who comes up with these spellings?  Jewelpops claims that the Karisma line, "intentionally and willfully copied . . . the overall look and feel of the Kameleon jewelry line that makes it instantly recognizable to consumers."  Jewelpops claims Karisma infringes ten copyright registrations for its Jewelpops line and also allegedly "utilizes similar or identical features to the Kameleon product design, accessory design, advertising and marketing."  Jewelpops claims that even Karisma's tagline, "This changes everything," is "strikingly similar" to Kameleon's tagline "Change is natural" slogan.  Meanwhile, Madonna's charisma notwithstanding, the court says she may not have rights in the Material Girl mark . . .
Material Girls get down and dirty (in court, of course).
Plaintiff L.A. Triumph (LAT) and its predecessor OC Mercantile (OCM) owned a California state trademark registration for MATERIAL GIRL that was valid from 1997-2007.   OCM sold junior women's clothing under the MATERIAL GIRL mark from 1997-2003, when LAT took over the business.  LAT sued Madonna, Material Girl Brand, LLC, MG Icon LLC and Macy's for trademark infringement in August 2010.  In November 2010, the court dismissed Madonna from the lawsuit based on lack of subject matter jurisdiction.  In June, 2011 the remaining defendants moved for summary judgment, which the court recently denied, despite defendant's claims that "Madonna is the Material Girl and she was the first [trademark] user starting in 1985  . . ."  Finding numerous issues of material fact, the court found it proper to let a jury decide who's the real Material Girl.  I don't know about you, but I'm sure Madonna thinks that's lame.  Know what else is lame. . .
Facebook lets Lamebook of the hook (with a couple disclaimers).
As I wrote about here, Lamebook sued Facebook (in Texas), which then sued Lamebook (in California).  Lamebook's suit sought declaratory judgment of non-infringement, while Facebook sought damages for trademark infringement.  The parties recently settled and the top of the Lamebook website now states "This is an unofficial parody and is not affiliated with, or endorsed or approved by Facebook."  Thank goodness for that, cause otherwise we'd all have been hopelessly confused, right?  I mean, really, Facebook.  At least that's less lame than suing Lamebook out of existence.  After all, they're offering a valuable public service culling the most ridiculous FB posts and sharing them with the world – laughter is good medicine, you know.  But, if its hospice care you're looking for in Madison Wisconsin, beware. . .
At the end of your life, which tree would you find more comforting?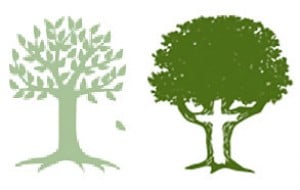 HospiceCare, Inc. filed a trademark infringement suit against BJM Hospice, d/b/a Saint Jude Hospice based on St. Jude's adoption of the logo on the right, which HospiceCare says is too similar to its logo on the left.  Let's see.  They're trees.  And they're green.  As far as trees go, these don't look confusingly similar to me and I cannot imagine anyone being confused by their simultaneous use.  While hospice workers make the end of human life easier, Cornell University is working to promote orphans . . .
Cornell adopts orphans at risk of being sued.
Leaders at Cornell, Duke, Emory and Johns Hopkins university's recently joined the University of Michigan, the University of Wisconsin, and the University of Florida in the Orphan Works Project.  These universities will make the full text of thousands of "orphan works" in their library collections digitally available to their students, faculty and researchers.  Orphan works are works that are presumably protected under copyright, but the copyright owner cannot be found.  Publishing such works is risky as it could result in copyright infringement suits, especially by copyright trolls.  Kudos to these institutions for taking the risk to further the public interest.  Speaking of the public interest . . .
Skinnygirl sued for hiding the skinny on its margarita mix.
First, Whole Foods pulled the Skinnygirl products from its shelves, then Beam Global Spirits found itself sued over Skinnygirl Bethenny Frankel's margarita mix, which is not "all natural," and "preservative free" (unless you don't count sodium benzoate) as it claims to be.  Ms. Frankel continues to claim that her product is all natural, which is why it "continues to fly off the shelves."  Actually, Ms. Frankel, I think that phenomenon might be due to the aforementioned recall, but hey!  Either way, you're right when you say that it's flying off the shelves.  Meanwhile, accusations are also flying about Liongate's film More than a Game.
We Ready (to sue).
An artist named Mason Hall d/b/a Break Bread Music sued Lionsgate for the alleged unauthorized use of the song "We Ready" in the movie More than a Game about basketball star LeBron James.  A Hollywood, Esq. article that links to the original song and allegedly infringing tune can be found here.  While both songs are rap songs and both use the words "We Ready" as their chorus, I don't see much similarity between them otherwise, and I don't think those similarities are gonna be enough to sustain a copyright infringement suit.  While this one seems like a slam dunk for Lionsgate, in other infringement news . . .
Ward knocks Knox County Schools for knocking off his coupon book.
Michael Ward was retained by Knox County Schools in 1994 to work on a system-wide fundraising program centered around coupon book sales.  Ward registered the SCHOOL COUPONS mark on the Supplemental Register (a waiting room for brands that hope to become protectable trademarks) in 1999 and renewed the registration in 2009.  Ward also claims to have registered the copyrights in the School Coupons coupon books, though I could not locate any copyright registration under the title School Coupons.  Ward claims Knox County continued to use his trademarks, copyrights and trade dress after it terminated its long-standing contract with him.  We'll just have to wait and see which party gets schooled in this one.  Speaking of schooling, Fritz Clapp has done it again . . .
Hells Angels tame Wildfox.
Recently, I wrote about my former client — the Hells Angels — (yes, really) having sued Amazon.com and Wildfox Couture for the selling this t-shirt.  According to an article from the folks at ApparelNews.net, Wildfox has pulled the infringing merchandise from the shelves and Amazon.com's attorneys are in discussion with my predecessor and successor, Fritz Clapp.  You may think a Hells Angels trademark case sounds hokey (it's not), but wait till you hear this . . .
Being hokie might be what it's all about, or it might just get you sued.
Virginia Tech sued John Wilburn for trademark infringement over his use of the Hokie Real Estate service mark, claiming that the university made over $1.6 million in 2009 on products bearing the school's famous HOKIE mark and Wilburn's use infringed and diluted the university's rights.  For those like me, who are ignorant of college football, according to the school's website, a Hokie is a loyal Virginia Tech fan.  According to an article on Roanoke.com, the parties settled their dispute and in the process Wilburn scored himself free tickets to Tech football games along with the right to continue using his service mark along with a disclaimer stating that "Hokie Real Estate™, Inc. is not affiliated with Virginia Polytechnic Institute and State University."  Who knew being sued could result in free season passes?  Perhaps we should all try adopting the unregistered nicknames of our favorite sports teams (or not!) and see where it gets us.